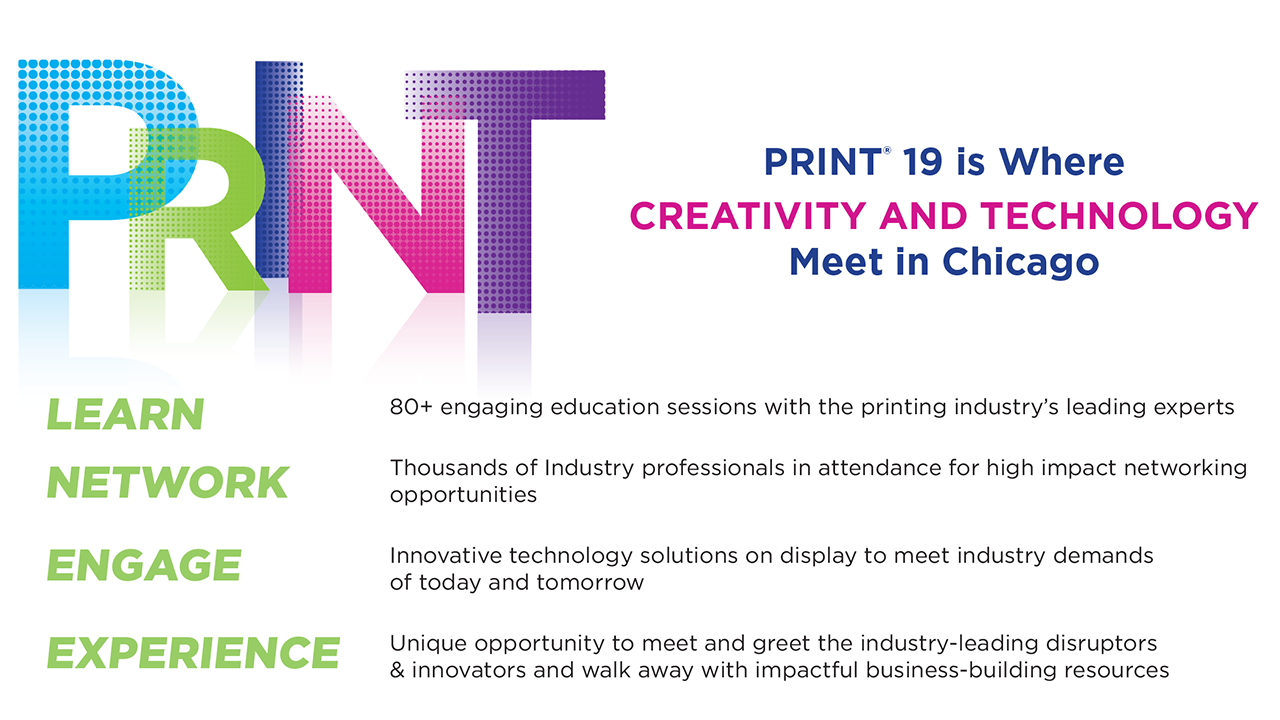 PRINT 19
You know that print is big business. Did you know it's $80+ billion big? There's lots of opportunity and we're here to help you take advantage.
Come to PRINT 19 and hear Nick Thompson, editor-in-chief, WIRED Magazine, kick off this year's event with a keynote presentation.
Stay for the PRINT event and see what's RED HOT, network with your peers, and attend the Celebrate PRINT Opening Reception on Thursday, October 3.
Not enough reasons? Check out our line-up of more than 80 learning sessions including hands-on labs. Sign up for a TechWalk – the hot ticket from PRINT 18 or take a break and participate in a TechTalk – learning sessions hosted by manufacturers to help you learn about products and services.
IPMA will be there! Come see us! We'll have a booth. We'll have a luncheon session. We'll have a panel. We'll have our annual Happy Hour. And Howie Fenton will present the final results of our 2019 Whitepaper: Next Generation Tactics and Strategies for In-Plant Service Providers– all in conjunction with the fabulous trade show that is PRINT 19!
Come see us at Booth 2418!
Dates:
October 4, 10:00-10:50 am, Room S401abc: In-plant Panel: Futurists -vs- Dinosaurs (Hint: You Want to be a Futurist!), moderator: Elisha Kasinskas, RSA.
October 4, 12:00-1:30 pm, Room N426: Next Generation Tactics and Strategies for In-Plant Service Providers–2019 Whitepaper Luncheon Presentation: Speaker, Howie Fenton.
October 4, 4:30-6:00 pm In-Plant Happy Hour at our Booth #2418.
Plus, use IPMA's promotion code PR172 to register for free! We hope you'll join us there!
Other In-Plant events featuring Howie Fenton:
October 4, 11:00-11:50 am, Room S402ab: Keep the Outsourcing Wolves Away: How Leading In-Plants Continue.
October 5, 10:00 am: The Balanced Scorecard Approach for In-Plant Survival.