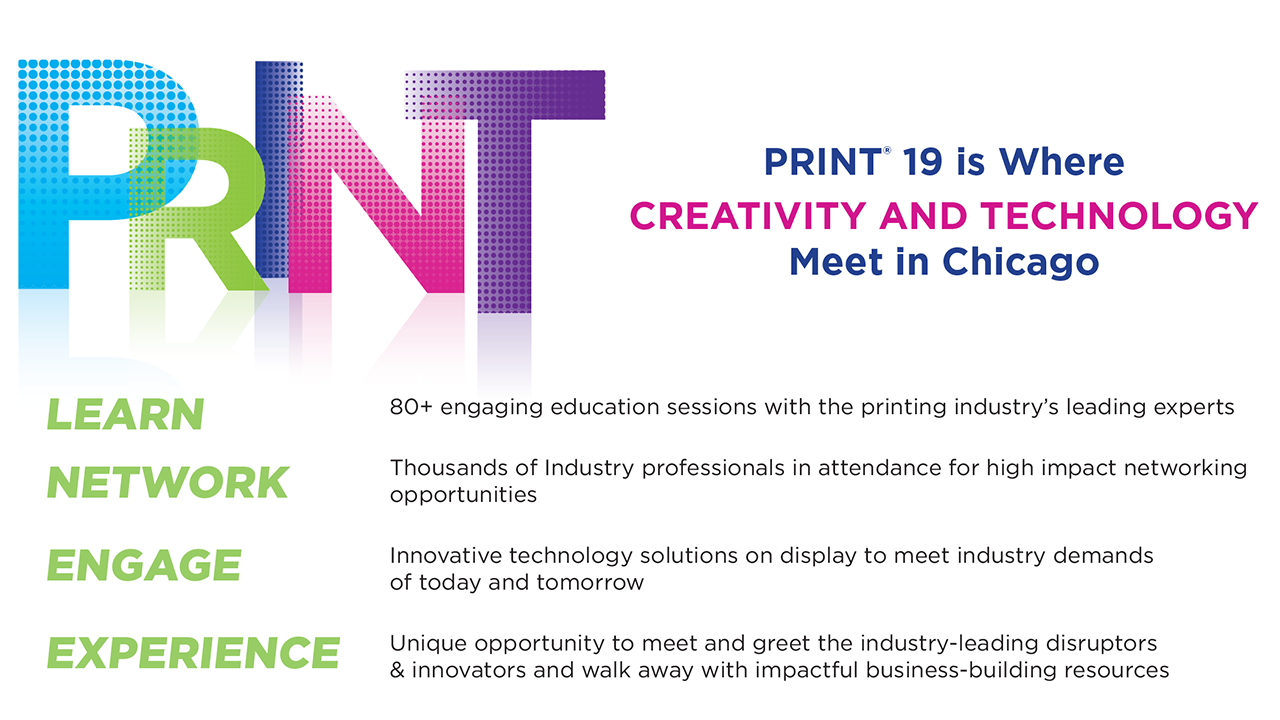 PRINT 19
You know that print is big business. Did you know it's $80+ billion big? There's lots of opportunity and we're here to help you take advantage.
Come to PRINT 19 and hear Nick Thompson, editor-in-chief, WIRED Magazine, kick off this year's event with a keynote presentation.
Stay for the PRINT event and see what's RED HOT, network with your peers, and attend the Celebrate PRINT Opening Reception on Thursday, October 3.
Not enough reasons? Check out our line-up of more than 80 learning sessions including hands-on labs. Sign up for a TechWalk – the hot ticket from PRINT 18 or take a break and participate in a TechTalk – learning sessions hosted by manufacturers to help you learn about products and services.
IPMA will be there! Come see us! We'll have a booth. We'll have a luncheon session. We'll have a panel. We'll have our annual Happy Hour. And Howie Fenton will present the final results of our 2019 Whitepaper: Next Generation Tactics and Strategies for In-Plant Service Providers– all in conjunction with the fabulous trade show that is PRINT 19!
Come see us at Booth 2418!
Plus, use IPMA's promotion code PR172 to register for free! We hope you'll join us there!
IPMA Events:
October 4, 12:00-1:30 pm, Room N426: Next Generation Tactics and Strategies for In-Plant Service Providers–2019 Whitepaper Luncheon Presentation: Speaker, Howie Fenton. Whitepaper sponsored by Canon. Luncheon sponsored by RSA and Xerox. Click here to register.
IPMA's 2019 survey "Next Generation Tactics and Strategies for In-Plant Service Providers" focuses on best practices and strategies. It addresses threats, pricing, staffing, training, education, marketing and more. Howie Fenton, in-plant expert, consultant, and market researcher will present his methodology and final results.
October 4, 4:30-6:00 pm In-Plant Happy Hour at our Booth #2418. Sponsored by Konica Minolta.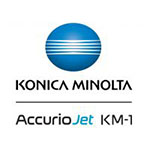 Other In-Plant Events:
October 4, 10:00-10:50 am, Room S401abc: In-plant Panel: Futurists -vs- Dinosaurs (Hint: You Want to be a Futurist!).
A panel of leading in-plant managers share how to be a futurist instead of a dinosaur. Hear how they are capitalizing on new opportunities, new technology and seeking out a bright future for their in-plant operation.
Learn how they are proactively adapting to the environment and customer needs to avoid extinction like the dinosaurs.
What You Will Learn:
Develop and sustain the mentality of a futurist
Find, assess and capitalize on new opportunities
Deploy new technology for maximum benefit and minimal cost
Position their operation with the technology and capabilities needed to meet customer and organization needs for the future
Leverage the "first mover" advantage to meet needs before someone else does.
Moderator: Elisha Kasinskas, Marketing Director, Rochester Software Associates (RSA)
Panel: Elizabeth Bowden, Duplicating Services Manager, University of Illinois at Urbana-Champaign; Jerry Hill, California State Printer, Office of State Publishing (OSP) Department of General Services
October 4, 11:00-11:50 am, Room S402ab: Keep the Outsourcing Wolves Away: How Leading In-Plants Continue To Thrive.
To survive and thrive leading in-plant service providers think outside the box. To battle the threats from outsourcers and facilities management companies, in-plants offer a wide variety of products and services to increase their value. Despite the common misconceptions that: the in-plant is not strategically aligned, the staff lacks competency, and the in-plant does not provide enough value; leading in-plants have proven they can compete, align with the mission, provide value and remain cost competitive.  In this seminar we will discuss strategies and tactics used by leading in-plants.
What You Will Learn:
How leader in-plants measure productivity, overcome bottlenecks and reduce costs
Case histories of in-plants that save money
Successful and unsuccessful competitive pricing studies
The latest market research including market size, trends and services
How to benchmark and report performance
Case histories of successful insourcing strategies
Listening to your customers and identifying new products and services
How to prioritize software investments. What should be on the top of your list
How to overcome the typical hurdles of software automation
The pros and cons of latest hardware options
Full disclosure of the outsourcing literature, issues and failures
How to creating a "Battle Book"
October 5, 10:00 am-12:00 pm, Booth 343: TechWalk Tour: Balanced Scorecard for In-Plant Survival.
The balanced scorecard approach is a 2-prong approach that helps in-plants increase the value of traditional products and services while building new value added products that will pave the way for their future success. Our tour will focus on the technologies and strategies that both: 1) drive down the cost of traditional products and 2) are required to build and support the next generation of value-added products.
Limited space available on a first-come, first-served basis.  Reservations are required and you must be a registered attendee of PRINT 19*.  To register for a Tour, call PRINT 19 Customer Service at (508) 743-8515 or (800) 748-5056 between 9:00 am and 5:00 pm ET or email: print@xpressreg.net
*Note, OEM, Suppliers, Dealers, Distributors are not eligible to register for tours.
Next Event
Date

Nov 20 2019

Time

CDT
1:30 pm - 2:30 pm