To live healthy lives, children need safe places to live, learn and play. They need access to healthy food, guidance and educational opportunity. Across Louisiana, there are thousands of children without access to the support they need to thrive. Thankfully, there are also thousands of everyday people working to make a difference in the lives of children.
The Angel Award® honors everyday people doing extraordinary good to meet the physical, emotional, creative or spiritual needs of Louisiana's kids. Since 1995, the Foundation has recognized more than 200 of these outstanding individuals. Each Angel Award also provides much-needed resources — a $25,000 grant for each Angel's nonprofit charity.
Past honorees, ranging in age from 17 to 93, have been coaches, teachers, clergy, doctors, homemakers, entrepreneurs and others. They've served as volunteers, staff and board members of exceptional nonprofits working to benefit kids. What they have in common is an unselfish contribution of time and energy to improve the welfare of Louisiana children.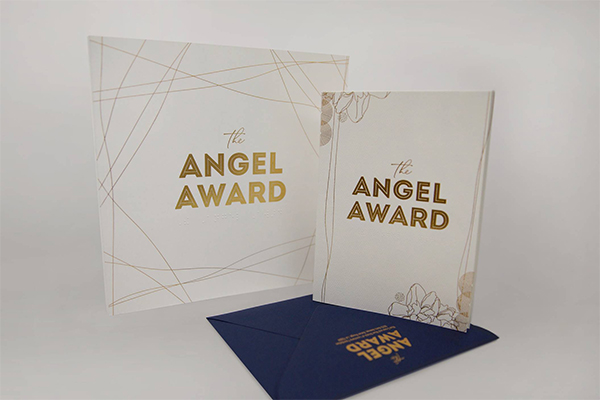 Reactions to the news that our Angel Awards event book won gold in the 2020 InPrint Awards was overwhelming. Emails kept pouring in from staff in the Graphic Design Department, Marketing, Managers, Directors, and Vice Presidents. Excitement was clearly noticeable in the kind words that came our way.
We can only thank everyone who sent us words of encouragement in such times that all of us are looking for good news in these unprecedented times. We also want to thank the judging team who selected our Angel Award event book as the winner this year in InPrint Awards.
To show the excitement that we received, I would like to share with you all excerpts of some of the emails that we received as well an article by our Senior Communication Strategist Robin Mayhall that was published on our internal monthly digital newsletter.
Genevieve ­– Well thanks Marwan but this is really a PRINTING award! You guys really went the extra mile, from printing to folding and finishing, everything was just top notch. We always come up with crazy ways to do things and instead of saying no – you guys really become our partners and help us problem solve.
I think it's a real nod to the amazing job you guys do. So CONGRATS to all of YOU!
Dafina – That's so awesome!!! Congratulations to Genevieve and to the entire printing crew! You all deserve the praise. Congratulations and well deserving!
Jonathan – I second that! Thanks to y'all for working alongside us to produce such top-notch pieces. Congrats to Genevieve on generating such an beautiful design and to everyone else who had a part in bringing it to life.
Thea – Great job to Genevieve and Printing Services!
Robin – Whoo-hoo! That's awesome news! Congratulations to Genevieve!
James – Congrats all around!
Carolyn – Congrats Genevieve and the Printing department, Great Team Work!!!
Jerilyn – Congrats to the printing department and Gen for producing an excellent program!
Robin – Congratulations on all the hard work. You deserve the gold.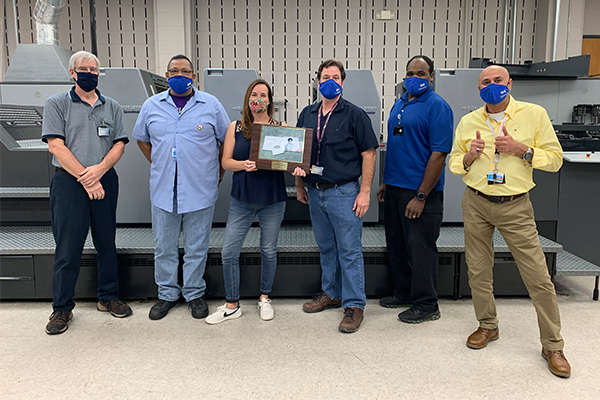 Robin Mayhall's Article
A truly collaborative effort by employees in the Strategic Communications and Printing Services departments has been honored with a top award by an organization of their peers.
The 2020 Angel Award event program, which was created by in-house writers, designers and printing specialists, earned a Gold Award from the In-Plant Printing and Mailing Association (IPMA).
"Blue Cross and Blue Shield of Louisiana received the highest award, Gold, for the Angel Award Event Program booklet we submitted," said Robin Calhoun, director, Corporate Support Services. Robin told the BNN that the program was entered in the Booklets (48 pages or fewer, with cover) category.
Founded in 1964, IPMA is the only professional association dedicated exclusively to meet the needs of in-house printers and mailers. Its more than 700 members are managers and directors from in-plant printing and mailing facilities throughout the United States.
The virtual Angel Award Presentation on Oct. 19 was a one-night celebration of everyday Louisianians doing extraordinary volunteer work on behalf of Louisiana kids. Angel Awards are presented by the Blue Cross Foundation each year to highlight the honorees' work and give grants to each one's charity of choice. According to Printing Production Specialist Marwan Baayoun, the event program was a months-long project that took many steps and many talented professionals to complete.
Marwan singled out Senior Graphic Designer Genevieve Procell as the creative lead who designed not only the program but the invitation, banners and large-format prints. She then met with Blue Cross' paper supplier to choose just the right paper stock and materials to bring all this to fruition.
Our in house large-format and pre-press specialist, Wendell Jackson—himself a past Blue Angel for his own volunteer work with children—and Marwan, along with professional press operators David Page and Eric Stepter, then worked their magic with Blue Cross' array of pre-press machines and presses to print the designs on the paper Genevieve had chosen.
Many people involved in this project, including Robin and Marwan, congratulated Genevieve for her work on the beautiful and award-winning booklet, including her fellow Senior Graphic Designer Jerilyn Abadie. She wrote, "That's wonderful news at a time when we need good news! Congrats to Genevieve!!"
The BNN gives a great big HUZZAH!! to everyone who worked on this project. It's a great example of what Blue Cross employees can do when we come together across departments and put our talents to work.
Below is a brief background of the team that made this project possible.
Preparation for the Angel Award event at Blue Cross and Blue Shield of Louisiana every year turns the Strategic Communications and Printing Services departments into veritable beehives. Altogether, a team of 20 professionals put their more than 300 years in combined work experience to meet the event deadline. It all starts when our Senior Graphic Designer Genevieve Murphy Procell and her team of photographers hit the roads, going from town to town interviewing the Angel Award honorees and their nominators. A graduate of Louisiana State University with a BFA in Graphic Design, Genevieve translates her notes from her one-on-one visits with the winners into remarkable work. Her designs include the event's invitation, banners, large format prints and program booklet. Genevieve next meets with our representative at Mac Papers, Carlton (Gene) Bell, to go over the available paper choices. This year's event program was printed on Neenah Classic Crest, Solar White. This stock was carefully chosen because the booklet featured Brail and Gold Foil Stamping.
Next, it was time to put Genevieve's creativity into production. Our large format and Pre-Press Specialist, Wendell Jackson, immediately put his Roland TrueVis VG2-640 and EFI H1625 LED to work. Wendell is passionate about his work with large format. He started his career working for a large local commercial printer as a conventional prepress and film image assembly technician. His career then transitioned to electronic film image assembly using Creo Preps, and later Heidelberg CTP Signa workflow. One thing worth mentioning here is that Wendell is a past Angel Award honoree himself for his involvement in helping women and children who have been victims of domestic abuse.
Files for the Angel Award event program are then forwarded to Printing Production Specialist Marwan Baayoun. Electronic image assembly is done using Heidelberg CTP Signa workflow. Marwan is a graduate of The Rochester Institute of Technology with a BSc in Printing Systems and Engineering. Marwan's career is in many ways similar to Wendell's, in that his duties also include running the Roland TrueVis VG2-640 large format printer as well as the EFI H1625 LED, purchasing paper, scheduling jobs, estimating, and issuing job tickets.
From the pre-press department, proofs and plates for the Angel Award Program make their way to the press department, where our two professional press operators, David Page and Eric Stepter, work their magic on our four-color 29-inch Heidelberg SM-74 press. David began his 35-year career as an operator for an AB-Dick press at a local commercial printer. David has since become a Journeyman four-color press operator for 35 years. As for Eric, he joined Blue Cross' Printing Services Department when he was 18 years old. Eric's curiosity, and his eagerness to learn about new technology, made him indispensable in the Printing Services Department. He is an experienced two-color and four-color press operator who can run both our Heidelberg SM–74 and SM–52 presses. Eric is also an experienced Stahl folder operator, Duplo collator, and kit stacker operator. Eric's talent does not seem to have any limit; he can operate our Roland TrueVis VG2-640 large format printer as well as the EFI H1625 LED, and he is the one we go to whenever equipment needs maintenance.
For the Angel Award event program, bindery was completed at two local vendors. Foil stamp and Brail was done at Tim's Printing and Steel Rule Die Making. Perfect binding was done at MPress, Inc.
---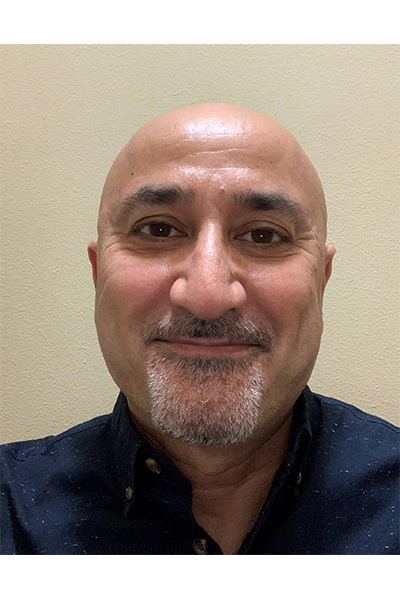 Marwan Baayoun joined Blue Cross Blue Shield of Louisiana October of 2005 in the capacity of Printing Production Specialist. He is an 1989 graduate of the Rochester Institute of Technology with a Bachelor of Science degree in Printing Systems and Engineering. In 2001 he earned his certification as a Microsoft Certified System Engineer MCSE from the University of Phoenix. His hobbies include fishing, hunting, gardening, and Shortwave Radio Dx listening.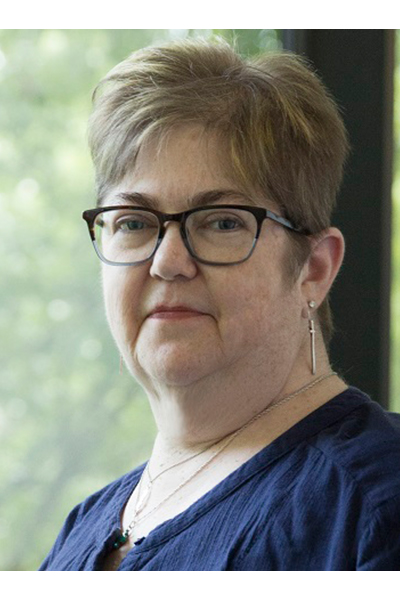 Robin Mayhall, APR, is a senior communication strategist with Blue Cross and Blue Shield of Louisiana, where she's worked since August 2003. She specializes in writing and editing, corporate communications, media relations and strategic planning. Before joining Blue Cross, she was director of health promotions for the Louisiana Chapter of the Arthritis Foundation.
Mayhall received her bachelor's degree in journalism with a PR concentration with highest honors from the University of Texas at Austin. She earned her Accreditation in Public Relations in 1998.
In her spare time, Mayhall writes science fiction stories and poetry. She has written two young adult graphic novels for Lerner Publishing/Graphic Universe. She also volunteers with Blue Cross' Team Blue and the local Arthritis Foundation. She was named a Blue Angel in 2010 for her work with kids with arthritis.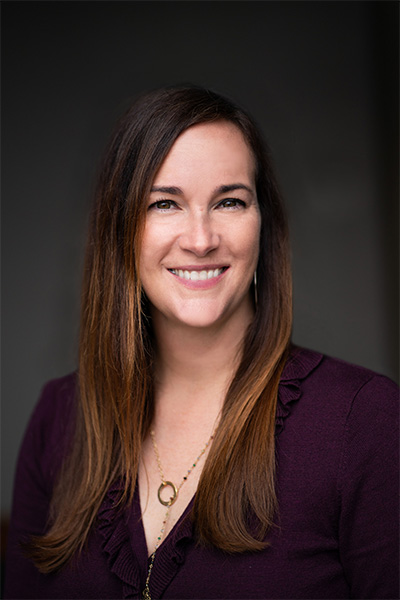 Genevieve Procell, Senior Graphic Designer, Strategic Communications, brings nearly 18 years of design expertise to the table in designing a wide variety of corporate materials that have won local, regional and national awards. She is responsible for the creative concept, art direction, design and production of all of our advertising assets. Two of her projects have been featured in HOW magazine's international design annual. Genevieve earned a bachelor's degree in fine art in graphic design from LSU and is involved with the Advertising Federation of Greater Baton Rouge. She joined Blue Cross as an intern in 2001 and has been here ever since.