For the last ten months my colleague, Mark Fallon, and I have been working with an in-plant to assist their team in right-sizing their print operation. In the utility sector, Salt River Project, (SRP) is a community-based, not-for-profit water and energy company. SRP provides reliable, affordable water and power to more than two million people living in central Arizona.
Many changes were underway at SRP. The print operations manager retired, a decision to outsource daily customers' bills and an internal reorganization of several departments involved with print. SRP needed guidance to restructure their in-plant.
SRP sought out our industry expertise to determine how best to adapt their printing operation. They have a 10-color offset press and three digital toner devices and two wide format devices.
Define the Destination
Much of the print volume is commercial and large format work for community partners and printed materials to support community events. Senior leaders deemed in-house printing a critical service for SRP to continue to provide for internal departments and community partners. The future state mission is to provide a wide array of print services, efficiently, from a new smaller facility.
Aaron (AC) Chrisman was new to his position managing the print operations team when we began assisting the SRP team to evaluate print options for the future state needs of their in-plant. Chrisman's goal for the project was to find the right technology based on their volumes and mix of applications and retain all his operators with considerations for new roles.
Get a Guide for the Journey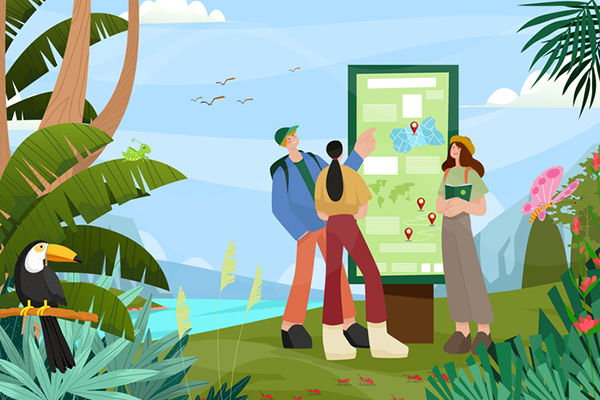 Production print is ever changing. SRP had not looked at new printing equipment in over five years. They had little knowledge of the advances in inkjet platforms for image quality, ink sets and substrate options.
SRP's print and management teams have embraced the learning process. They are educating senior leaders and stakeholders about the impact of the services the printing and mailing teams provide to the organization and community partners. We recommended SRP attend the Printing United trade show to learn about innovative solutions and tools to improve their workflow. Chrisman attended with a senior leader, an offset operator, a digital operator, and a workflow specialist. He said the biggest benefit in attending a trade show with multiple members of the SRP team was a variety of perspectives in evaluating hardware and software solutions.
SRP attendees from Printing United then continued the process by educating their IT teams on further leveraging software they already owned. Content from the show led to potential strategies for improving integration between print and SRPs business systems. A show as large as Printing United can be daunting for first time attendees. We arranged appointments and demos with exhibitors to maximize their time and focus their learning on solutions that fit their needs.
Continuous Learning
SRP has continued their education path by meeting with leading digital/ inkjet equipment and software suppliers. They visited print facilities to see software demos and inkjet equipment running in similar production facilities.
At our recommendation Chrisman attended the recent Inkjet Summit conference. He appreciated the content on industry trends and panel discussions. Chrisman received the biggest value and learning opportunities from the case study presentations. There were two tracks dedicated to in-plants. Presenters shared the challenges they faced when migrating to inkjet and the tools and workflow changes that enabled success. Chrisman valued the openness in sharing and networking with many IPMA members and other in-plant managers at the conference. Chrisman's take away from the conference was strong consideration for a smaller sheet size press. Based on the case studies he sees the potential for the right workflow and finishing which will increase throughput to completed orders.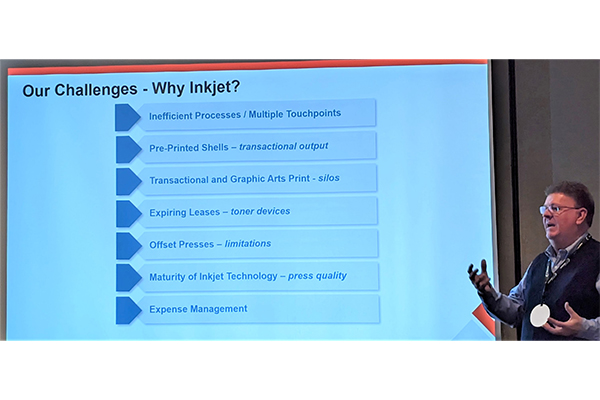 SRP recently combined the mailing department with the printing department under one reporting manager. Chrisman and his manager are looking to improve their mailing capabilities.  They will be attending the National Postal Forum to learn and investigate solutions to add value to their organization.  
We have guided SRP through the process to validate their future state and address gaps in their workflow. They have identified areas for improving print and mail services to their organization. SRP is on the path to managing an effective RFP process because they have listened to their guide and embraced education on multiple levels. If you anticipate the need for new inkjet/digital investments, consider getting a guide to determine the best path for your organization. A good guide will evaluate your needs and define your critical success factors in choosing the best solutions for your future state.
---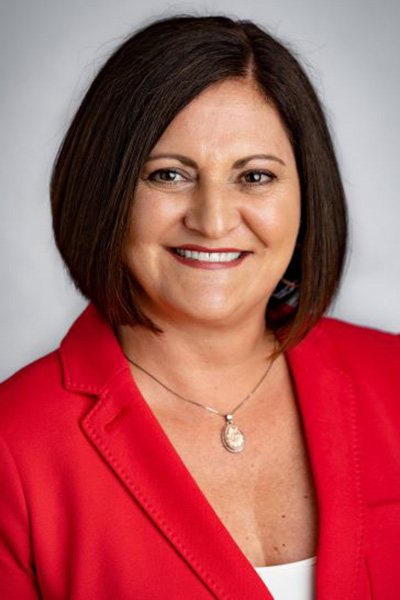 Lois Ritarossi, CMC®, is the President of High Rock Strategies, a consulting firm focused on sales and marketing strategies, and business growth for firms in the print, mail and communication sectors. Lois brings her clients a cross functional skill set and strategic thinking with disciplines in business strategy, sales process, sales training, marketing, software implementation, inkjet transformation and workflow optimization. Lois has enabled clients to successfully launch new products and services with integrated sales and marketing strategies, and enabled sales teams to effectively win new business. You can reach Lois at https://www.highrockstrategies.com/ or Lritarossi@highrockstrategies.com