"The USPS promotions leverage technology which has improved the response to our mailings while providing discounts to offset cost to our marketing budget."

Dianna Blakley, Production Coordinator, Journey Marketing, Physicians Mutual Insurance
New postage rates with an average increase of 4% took effect on January 22nd. And another rate increase will likely take effect in July 2023.
How can in-plants minimize the impact of twice annual postal rate increases? By taking advantage of the USPS promotions. Start by registering for all the 2023 promotions, even the ones that may not appear relevant to your organization.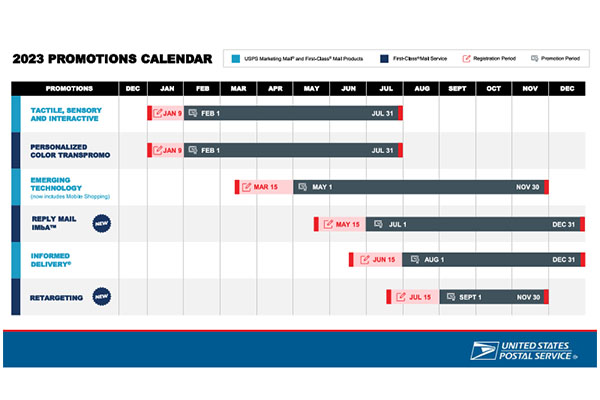 Lower Postage Costs
Promotions provide postage discounts of 3-5% over several months. Even for smaller mail campaigns, the discounts have a significant budget impact. The promotions are designed to demonstrate the value of mail and add the ability to drive consumers to digital channels. The impact is increased engagement while providing postage discounts.
In-plants can assist internal departments in delivering more effective mail with improved response and conversion across all channels. Integrating innovative technology is part of the solution to taking full advantage of the USPS Mailing Promotions
If you don't already have one, create an account at the USPS Business Customer Gateway (BCG) After creating your customer registration (CRID) you will receive an email verification. Once verified, you can log into the BCG and enroll in the Mailing Promotions by following the "Existing Business Customer Gateway (BCG) Users" instructions.
The real work is to register each mailing project through the USPS gateway and update the Mail.dat or Mail.XML files with the correct code to earn the postage savings. The technical specifications are detailed on the USPS Promotion site. With straight forward instructions, in-plants can register multiple mail campaigns throughout the year to reduce postage costs. There are six types of promotions available for 2023.
Dianna Blakley of Physician's Mutual Insurance shared that their internal team does all the uploading of campaigns to the USPS BCG for mailings done inhouse and those done with third party service providers. Physician's Mutual takes advantage of USPS promotions throughout the year to offset the postal rate increases.
The first two promotions of the year, Tactile, Sensory and Interactive and Personalized Color Transpromo started on February 1st and run through July 31st.
The Personalized Color Transpromo promotion provides a 3% discount for mailers who use color marketing messaging to increase response from customers. There's a 4% discount for mailers who use color and include an envelope for business reply mail (BRM) or courtesy reply (CRM). This program is for First-Class Mail.
While those of us who have been in transactional mail for decades may wince at the term 'transpromo,' we know inkjet and digital printing equipment has made personalized color documents the standard. Mailers leveraging the full capabilities of digital and inkjet platforms can provide variable color messages and offers for each mail recipient at a low cost. Inkjet enables variable content and images to make most personalized documents eligible for the Transpromo promotion discount. Defining a strategy with your marketing and composition teams is a one-time effort to build color and personalization into your process.
The Tactile, Sensory, and Interactive Mailpiece Engagement promotion offers a 5% discount when mailers improve customer engagement by enhancing the physical characteristics of the mailpieces. This may be accomplished through different substrates, thermal and specialty inks, interactive elements, or finishing techniques. Both promotion programs run February 1st through July 31st. The tactile sensory and interactive program is open to First-Class Mail and USPS Marketing Mail.
Leverage Digital to Reduce Cost
Digital and inkjet platforms with post-coating and specialty finishing options create beautiful and engaging mail and documents that feel different. Specialized inks and substrates allow for unique textures and tactile engagement for both transactional and marketing mail.
Interactive elements include integration of three-dimensional elements, infinite folding and trailing edge die-cuts. Three-dimensional elements, pop-ups, zip strips, clean release cards, complex folds and interesting die-cut edges make for eye-popping and engaging direct mail. These are the campaigns that win awards because of their engaging design and their results demonstrating increased response, conversion and digital engagement.
Blakley said her company initially tested the tactile promotion with soft touch finishing on their insurance policy carriers. The postage savings offset the additional cost for the coating. The big impact was response. The soft touch carriers delivered a significant increase in response and became their control package which they now use throughout the year even after the tactile promotion has ended.
Postage rate increases are here for the foreseeable future. 4% or 5% savings of a large postage expense is real money. Leveraging technology and strategies to make mail more effective – while reducing postage through the promotions – is a predictable way to provide value and better results for your organization.
Educate Your Internal Customers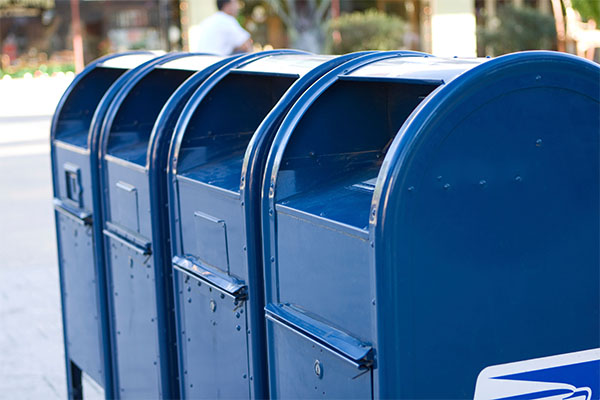 There are often many people and several departments engaging in defining and designing documents for printing and mailing. The In-Plant mailing team is usually the only source of internal postal knowledge. Blakley at Physicians Mutual took the time to educate her internal customers about Informed Delivery. They now have run campaigns with the Informed Delivery Promotion for three years. Their marketing and product teams are thrilled with the results they can track from the additional responses when customers use the links from the ride along images and the postage savings.
Your team can shine as subject matter experts and provide cost savings to your organization. Make a commitment to understand and educate your internal customers on the benefits of the USPS promotions. Detailed information on these promotions and the others scheduled for 2023 is available on the USPS PostalPro site.
Links
https://postalpro.usps.com/promotions/how-to-enroll
https://postalpro.usps.com/promotions
https://postalpro.usps.com/mailing/techspecs
https://postalpro.usps.com/promotions/2023-promo-calendar
https://www.linkedin.com/in/dianna-blakely-419864a5/
---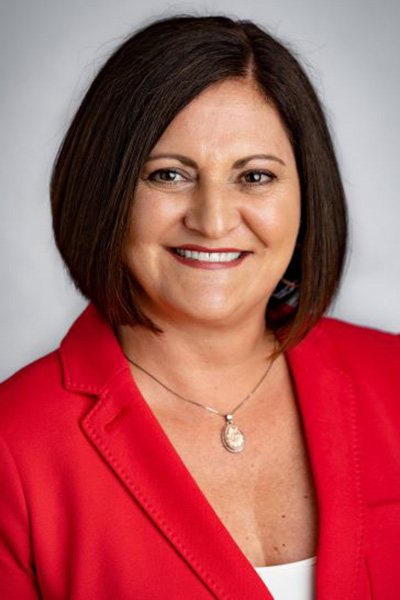 Lois Ritarossi, CMC®, is the President of High Rock Strategies, a consulting firm focused on sales and marketing strategies, and business growth for firms in the print, mail and communication sectors. Lois brings her clients a cross functional skill set and strategic thinking with disciplines in business strategy, sales process, sales training, marketing, software implementation, inkjet transformation and workflow optimization. Lois has enabled clients to successfully launch new products and services with integrated sales and marketing strategies, and enabled sales teams to effectively win new business. You can reach Lois at https://www.highrockstrategies.com/ or Lritarossi@highrockstrategies.com