The only professional association dedicated exclusively to the needs of all in-house corporate publishing, printing, and distribution professionals.
November 2, 2021
Kearney, MO – Kelly Hogg, International President of the In-Plant Printing and Mailing Association (IPMA)'s Board of Directors has appointed Julio Rosado as IPMA's Member at Large Representative effective November 1, 2021.  
"I am excited that Julio Rosado has accepted to join the Board as our Member at Large Representative, which was vacated when Christopher Dolon was elected our President Elect.  Julio brings many years of industry experience to the Board.  He has shown a commitment to the in-plant printing network working closely with other in-plants within the New York area and has been very active on IPMA Community sharing his experiences and expertise.  I am looking forward to working with Julio, and the rest of the Board over the next year," said Kelly Hogg, International President, IPMA Board of Directors.
Julio Rosado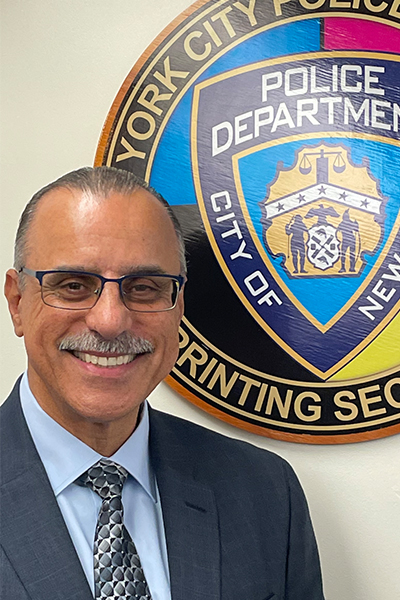 Julio Rosado is an accomplished print professional and manager. Julio acquired a passion for printing in high school and decided that would be the career he would build on. It all started with conventional graphic arts and it has been an evolutionary process since then. Julio has had many print shop stops throughout a wonderful career, including some that are long gone and forgotten. In 2016, with four decades of varied experiences under his belt, Julio was hired as the director of the Printing Section of the New York City Police Department, a full production printing plant within NYPD headquarters. As a manager Julio strives to expand his team's knowledge of printing and leadership through examples and guidance. During Julio's tenure at the NYPD, he has established a network group of NYC agency printers to discuss workflow issues, exchange vendor information and resources. Julio has been recognized throughout his career for his attention to detail and extraordinary commitment to his customers.
About IPMA
Founded in 1964, the In-Plant Printing and Mailing Association (IPMA) is the only professional association dedicated exclusively to meet the needs of all segments' in-house printers and mailers. The more than 700 members of IPMA are managers and directors from in-plant printing and mailing facilities throughout the United States. IPMA is headquartered in Kearney, MO. For more information, visit www.ipma.org and follow IPMA on Twitter, Facebook, YouTube, LinkedIn and Instagram.