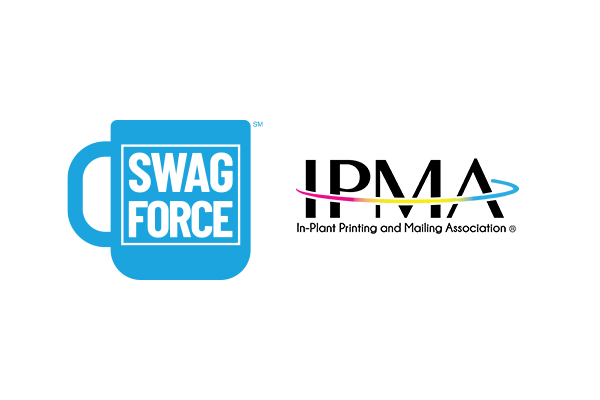 March 1, 2023
Austin, TX– Swagforce, an Austin based promotional products e-commerce agency, and the In-Plant Printing and Mailing Association announced today a joint partnership to offer enhanced Swagforce services as a benefit to the IPMA members.
"We are thrilled to partner with IPMA to offer our Swagforce platform as a benefit which will help its members sell apparel and promotional products more efficiently to their customers," said Swagforce CEO Dan Steinborn.
Through the partnership, Swagforce will offer its white label promotional products website and sales support to the IPMA members along with many added benefits. Signing up for Swagforce will either help improve the member's current sales effort or help them launch a new service for their customers.
"We identified that many in-plant printers are missing out on a significant stream of revenue with apparel and promotional product sales," said Steinborn. "Swagforce allows them to add this new service for their customers without a huge investment in technology, staffing or industry knowledge."
"Our members have been asking us for years to come up with a solution for them to help increase promotional product sales," said IPMA Executive Director Mike Loyd. "Swagforce is the exact partner we were looking for to offer this type of service to our members. We couldn't be happier with this partnership and the new benefit we can offer our members."
About Swagforce
Swagforce, a leading provider of white label promotional product selling solutions, is a division of pioneering e-commerce promotional products retailer, PrintGlobe. Founded in 1995 in Austin, Texas, PrintGlobe has supported the branding needs of Fortune 500s, printing companies, graphic designers, universities, government entities, and more than 100,000 small businesses.
About IPMA
Founded in 1964, the In-Plant Printing and Mailing Association (IPMA) is the only professional association dedicated exclusively to meet the needs of all segments' in-house printers and mailers. The nearly 700 members of IPMA are managers and directors from in-plant printing and mailing facilities throughout the United States. IPMA is headquartered in Kearney, MO.
For more information about Swagforce, visit or www.swagforce.com or contact Matt Barry at (866) 424-0020 x361 or matt.b@swagforce.com.
For more information about IPMA, visit www.ipma.org and follow IPMA on Twitter, Facebook, YouTube, LinkedIn and Instagram.