August 6, 2019
Kearney, MO – Congratulations John C. Stephenson, Reproduction Technician BFB for Delaware River Port Authority Printing Services, for earning recognition from the In-Plant Printing and Mailing Association (IPMA) by achieving the designation of Certified Graphic Communications Manager (CGCM). The CGCM credential is the highest honor of professional achievement available for in-house print managers.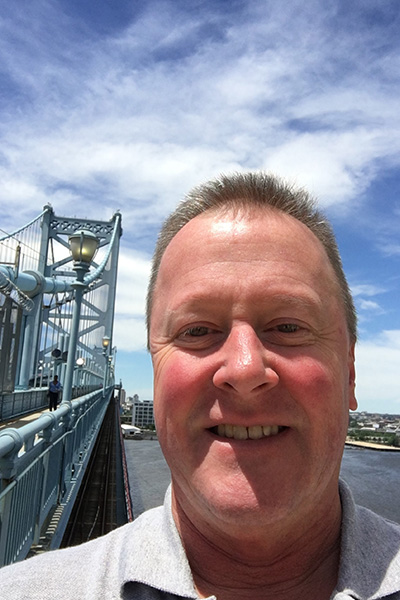 "I came to the Delaware River Port Authority's in-plant Printing Services department in 2000. We boast the "cleanest and most organized shop" in the industry. We are located at the base of the Ben Franklin Bridge in Camden, NJ. We are very fortunate to have the support the Authority and provide top notch support to our employees.
I am grateful and excited to have accomplished my CGCM Certification. It is an honor and a pleasure to serve the IPMA Community," said John C. Stephenson .
Stephenson has worked in the Printing Industry since he was 16 years old. He is also a long time Freemason whose favorite historical individual is fellow Freemason Benjamin Franklin.
He joins nearly 400 men and women in the corporate publishing profession to have earned the prestigious CGCM designation.
About the Certified Graphic Communications Manager (CGCM) Certification
IPMA's Certified Graphic Communications (CGCM) Manager certification is the professional standard of proficiency for the in-house graphic arts and printing management profession. Its objectives are:
Encourage professional growth and attainment of technical and managerial knowledge.
Create a positive image and advance the stature of effective in-house graphic communications managers.
Emphasize the knowledge and expertise required to excel in the in-house graphic communications management field.
Identify, through the CGCM designation, those managers who have attained a high level of competence and professionalism.
Certification requirements include a minimum of 5 years in graphic communications management and current employment in an in-plant, displaying high moral character and an attitude of professionalism, and passing an in-depth examination covering both the business and technical aspects of in-house printing.
About IPMA
Founded in 1964, the In-Plant Printing and Mailing Association (IPMA) is the only professional association dedicated exclusively to meet the needs of all segments' in-house printers and mailers. The more than 700 members of IPMA are managers and directors from in-plant printing and mailing facilities throughout the United States. IPMA is headquartered in Kearney, MO. For more information, visit www.ipma.org and follow IPMA on Twitter, Facebook, YouTube, and Instagram.