The Raymond J. Prince Graphic Communication Advisors Group (GCAG) announced the appointment of printing and publishing technology expert. Paul Cousineau, as its latest member.
Named after industry advocate and GCAG founder, the late Raymond J. Prince, the group is composed of 20 of the printing industry's most visible and sought-after consultants (https://hrlevenson.wixsite.com/gcag). Cousineau retired from Dow Jones/Wall Street Journal where he served for 38 years as an operations executive spanning many locations, assignments, and responsibilities, and most recently as Vice President, Prepress Operations, Continuous Improvement, and IT Ops Support.
Cousineau said, "Through the GCAG and my own practice, I now look forward to using my nearly four decades of experience to help printing and publishing companies at all levels develop their management strategies and technologies to better grow and serve their client base today and in the future."
Harvey Levenson, Cal Poly Professor Emeritus and GCAG coordinator, said: "GCAG advisors are selected who bring experience, knowledge, and skills that are, for the most part not redundant, but additive in serving the needs of printers publishers, suppliers, and related companies, today and in the future. Paul is recognized as a leading professional application engineer in pre-press through manufacturing with executive level experience in publication manufacturing and printing technology development."
Cousineau, a Cal Poly honored alum with a degree in Graphic Communication, was recently inducted into the Ben Franklin Honor Society for his lifelong professional achievements. He has been a featured speaker worldwide at conferences on multiple print operations topics. Cousineau can be reached directly at cousineauconsultingllc@gmail.com or (609) 937-1103.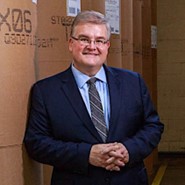 About the Graphic Communication Advisors Group
The Raymond J. Prince Graphic Communication Advisors Group (https://hrlevenson.wixsite.com/gcag) is a group of specialists and experts accessible to the printing, publishing, packaging, and related communities. The group provides fresh, outside perspectives representing a broad range of experiences and a long-term commitment to all facets of the graphic arts industries. Many of the GCAG consultants and practitioners are industry's "household names" and best-known managers, technologists, scientists, researchers, authors, and Expert Witnesses. They bring the power of their deep expertise and problem-solving acumen to bear on training and solving difficult problems.

---