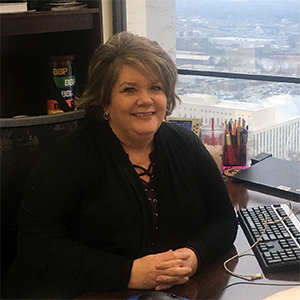 Tammy Golden is the Assistant Commissioner of Document Solutions for the State of Tennessee. Prior to coming to state government over 18 years ago, Tammy worked in the commercial print industry, focusing on customer service. Her previous employment included Triangle Wholesale Printing in Nashville and Top Flight, Inc. in Chattanooga, Tennessee.
Tammy is the Secretary/Treasurer on the Board of Directors of the In-Plant Printing and Mailing Association and was a past board member of the National Government Publishing Association. She is an inaugural member of the Tennessee Government Leadership Council where she served on the Vision Committee that created the Black Belt Leadership Program. She is a 2011 graduate of the Tennessee Government Executive Institute and served on the TGEI Steering Committee in 2013. 
In 2013, Printing and Media Services successfully consolidated with the data center transactional printing facility, saving the state of Tennessee over $1,000,000 per year. 
Tammy has two daughters, Macy and Megan. In her spare time, she enjoys theater, playing piano and volunteering in community organizations.
Sessions
Townhall Meeting
Leveraging Best Practices to Increase the Value of Print Operations
During this session, Joe Morgan, Founder and CEO of siY, LLC, will moderate a session with thought leaders from leading print operations on how to increase the value of your print operation by both saving money and creating value. We will discuss in-plant success stories and emerging trends in data analytics, web-to-print, and other technologies that are driving innovation in the print industry.
Panelists:
Government Round Table