The In-Plant Printing and Mailing Association Blog focuses on topics about the future of our industry, about implementing new technologies and techniques to improve your business. But today let me inspire you with the past of the printing industry, a history that stretches back more than 500 years.
Since 1988 the International Printing Museum in Carson, CA, has brought this history of printing to life for diverse audiences, from students to enthusiasts and to professionals like yourselves. Through working tours, demonstrations and events, we utilize one of the largest collections of antique printing presses in the world. We even have a mobile printing exhibit, our Museum on Wheels trailer, featuring Ben Franklin's colonial printing shop. Being on wheels allows us to take our message to schools and festivals beyond Southern California, engaging audiences about the "Art Preservative of All Arts," as printing has been described for centuries.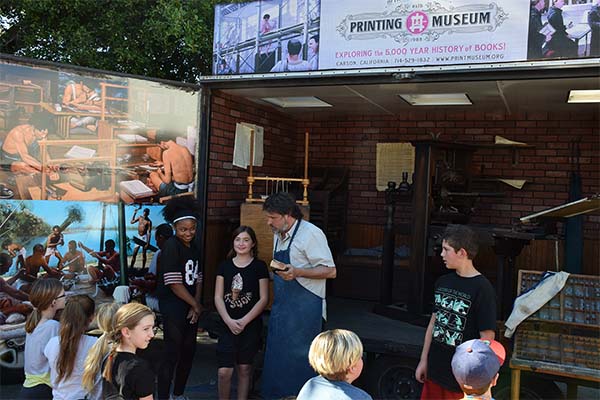 The Printing Museum's collection is vast, ranging from a representation of Gutenberg's wooden press of 1450 to early 19th century newspaper presses, powered by hand-cranking a cylinder; historical wood type, hot metal typecasting machines such as the marvelous Linotype of 1890, early stone lithographic presses, and more. The collection began with our Founder Ernie Lindner, a second generation Los Angeles equipment dealer whose passion for printing went beyond his day job of selling modern printing equipment. Ernie was inspired by the many old machines of our industry that he came across in making deals. He built the collection over 50 years and it was well regarded as one of the best; he was often called on to loan presses to other museums like the Smithsonian as well as renting equipment to the film industry. Most of the presses you see in the films come from Ernie's collection. A notable one is a famous episode of "The Twilight Zone," starring Burgess Meredith as a devil with a Linotype typecaster as his tool of chaos.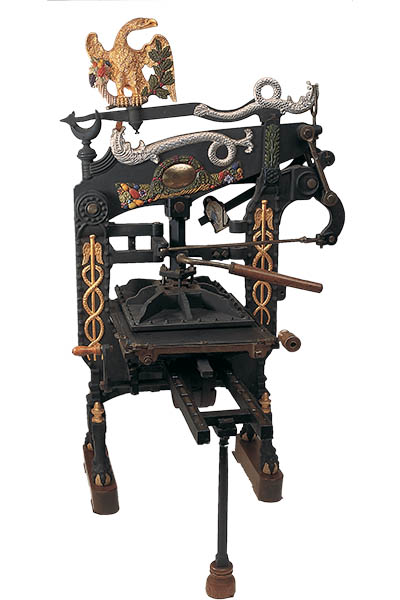 Since becoming a public museum in 1988, the collection has continued to expand and features many singular and unique machines of printing history. One of the most interesting and beautiful presses in all of printing history is the Columbian Press, dating back to 1813, the first metal printing press made in America and the start of the Industrial Revolution. The inventor George Clymer eliminated Gutenberg's screw mechanism for creating power in favor of compound levers with counterweights and beams. The bizarre ornamentation was Clymer's creative sales technique to make sure you never forgot his press; it includes a large eagle at the top, a cornucopia, caduceus', and dolphins. Being cast iron however, the Columbian Press cost four times as much as the wooden presses in common use since Gutenberg and Ben Franklin. Clymer only sold a few presses in America, so he moved to London to manufacture his press and finally the press sold very well. One hundred years later you could still buy the press with the American bald eagle flying above it!
The 1858 Franklin Job Press by George Phineas Gordon allowed printers to quickly produce the multitude of small jobs required of every printer, from business cards and envelopes to small flyers and advertisements. Gordon called the press the Franklin Press because he said Benjamin Franklin inspired him in a dream on how to make the press. Even rarer than Gordon's early press is the Ruggles Rotary Job Press, which was the real inspiration to the Gordon Press. Built in the early 1850's the rollers of the press travel 360 degrees around the drum cylinder, a unique concept that few presses utilized.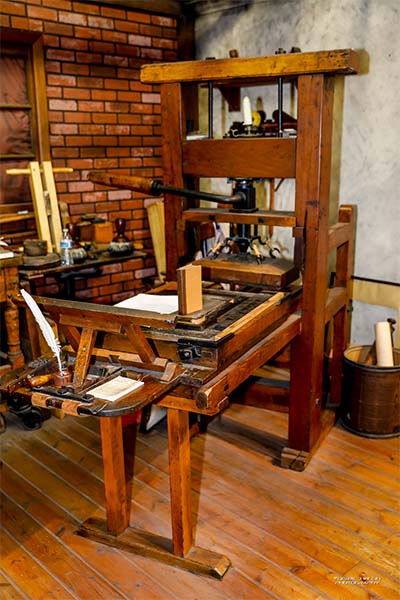 Our oldest printing press is an 1806 wooden common hand press, commonly known as a Ramage Press due to its builders name Adam Ramage. Ramage worked in the Boston area and this press is thought to be one of the oldest surviving American made printing presses. It was donated to the Printing Museum by Rand McNally after having inspired the map makers in their lobby for decades.
This brings me to my next point which is that smart businesses don't ignore their pasts. In order to have a clear vision for your future you must learn to appreciate what came before, the tediousness of tasks that we don't give a second thought and the origins for words you use every day. Take for example how printers used to organize their type cases so that all the regular type letters sat in the lower case and all the capital type letters in the upper case, thus what we call uppercase letters and lowercase letters. That's why we annually host multiple tours with businesses like your own and college classes preparing to enter the graphic arts industry. Most of the Museum's biggest supporters work in the industry, because they understand the debt we owe to our predecessors and their innovations.
Every year the Printing Museum hosts The Los Angeles Printers Fair, a celebration of all things printing, paper, and book arts. The Los Angeles Printers Fair annually brings together thousands of visitors and over 90 vendors and practitioners of letterpress and the book arts. The LA Printers Fair is a time to see how a new generation of young creative printers are using old equipment and technologies, mixing them with modern ideas to create pieces that inspire a new generation.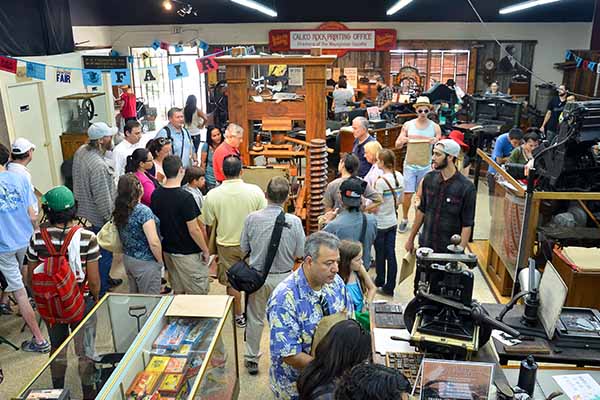 2020 marks the 12th year of this celebration and its most unique one yet, because the Printers Fair is going virtual rather than just being in person at the Printing Museum. Instead of taking place over two days, the 2020 Virtual Los Angeles Printers Fair will occur during the whole month of November! You can experience this other side of our printing industry by visiting our new website www.printersfair.com and browse featured products by all our vendors in the virtual marketplace, enjoy daily special videos, tours, hands-on at home tutorials, printable keepsakes, vendor spotlights, special sales, weekly raffles, shopping guides, and more! The International Printing Museum has partnered with art programs such as Otis College of Art and Design, the Los Angeles Printmaking Society, small artisan printers, and corporate supporters of the arts like Kelly Paper. To learn more about the presses mentioned above and all the other great treats we're releasing follow our social media (@printmuseum), visit our website, or sign up for daily e-mails via our website.
Enjoy a walk through YOUR history as a printer and communicator, and let it inspire you to press forward in your business!
---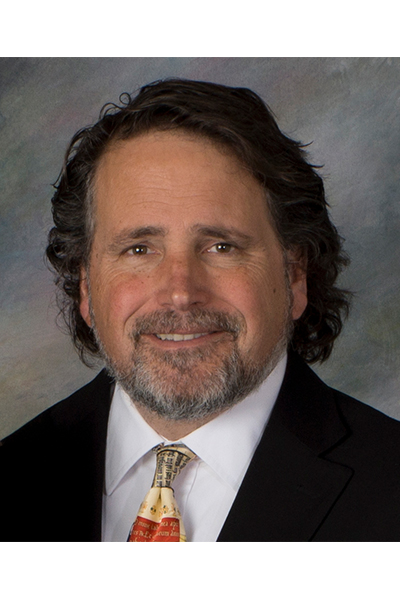 Mark Barbour is the Founding Director and Curator of the International Printing Museum, Carson, California. As one of the founders of the museum in 1988, Mark's vision and passion over the years have been instrumental in establishing the International Printing Museum as one of cultural gems of Southern California. Mark continues to be creative in develop a broad base of programs and support, helping the museum to grow far beyond a warehouse collection of dusty, printing industry relics into a relevant cultural and educational destination for audiences of all ages and backgrounds. The Museum's many programs bring to life one of the world's most significant and comprehensive printing collections by actively involving visitors of all ages in an accessible, living, working history of the printed word and its continuing impact on our world.
Mark's ongoing work includes tours and education programs, research, acquisitions, moving heavy antique machinery, restoration of presses, collections management, instructional classes, writing, marketing and promotions, facility management, donor and fundraising development. Since 1988, Mark has also been engaged as a consultant for film and television on the subject of printing, regularly renting the museum's printing presses for film and television.
Mark holds a Graphic Communication degree from California Polytechnic University, San Luis Obispo, CA. During his tenure at Cal Poly Mark worked as the student curator of the Shakespeare Press Printing Museum, an experience that developed his passion for printing history and for using that history to inspire others.