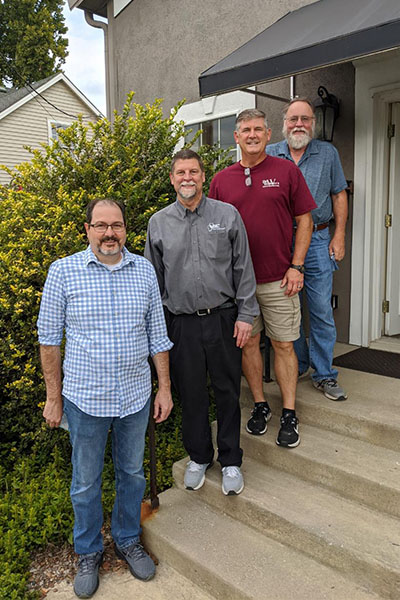 So how do you write a blog about being a judge for the In-Print Awards? Jan Portwood posed this question to me amid the tempest of 2020, and I obviously said, "Sure, I can do that!" And like (I assume) many of you out there in the far reaches of Printing, Mailing, or Elsewhere, after I told someone "Sure, I can do that", I then proceeded to think, "Huh, how do I actually do that?"
Where are my notes! Yes, I had jotted a few things Jan had suggested, and she asked me to make it conversational and to try to tell a story about how this year's judging experience compared to past judging events. Even my two year old granddaughter could understand how this year is unlike anything that has proceeded it, but I would like to share what my experiences have been when I was honored enough to serve as a judge for the annual In-Print Awards that are jointly sponsored by IPMA and In-Plant Impressions.
My first experience of judging came in 2017, but I might first mention I had the pleasure joining IPMA as a member back in early 2015. I attended the IPMA Conference that year, which was held in beautiful Orlando, Florida. I was (and still am) the Document Services Supervisor at Shelter Insurance in Columbia, Missouri, and have held this role since December of 2007. Our department consists of Document Specialists, Graphic Designers, and an in-house Print Shop. Not having a print or design background prior, meant I learned on the go. IPMA became a huge resource for me and I discovered countless amounts of information and resources who were only an email away.
As a way to learn more quickly, and keep busy, I quickly became involved with IPMA and was volunteering by my second conference. And although I have met many knowledgeable and helpful people through IPMA, I give immense credit to an amazing man from out West. Richard Silver, who most everyone knows as "Maverick", instilled in me the sense of community, education, and support within IPMA. I did have a boss who was also in IPMA, so besides attending conference each year, we also put on an IPMA Roadshow a few years back as well. It was my boss who was slated to assist with judging the 2017 competition, but after she left her position, Bob Neubauer asked me if I would take her place. I can still recall telling Bob I did not feel qualified for the responsibility, but then he made me feel confident and at ease with his words of encouragement.
When you serve as a judge for this competition, there is ample communication leading up to the date. You see plenty of emails from the organizers, as well as the other judges you will be working with. IPMA Headquarters does a fantastic job of preparing the pieces and organizing everything as much as possible prior to the judges setting foot in majestic Kearney, MO. I served as a judge in 2017, 2018, and then this past September of 2020. My first two rounds were quite similar, but what I always tell people what I get out of the experience the most is the chance to see so many impressive pieces from all corners of the IPMA universe. There are small, medium, large, or even huge operations, and it is amazing to see what they all create and produce.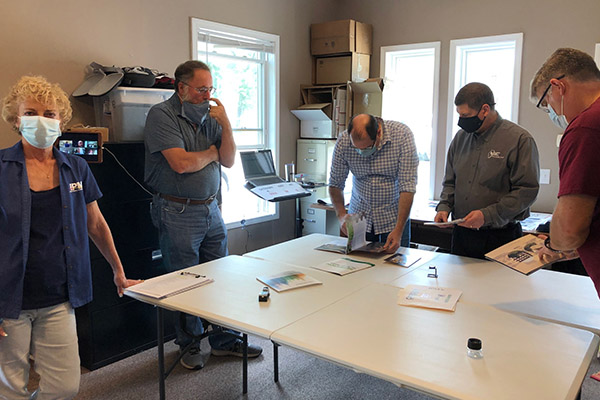 Your day normally starts between 7:30 and 8:00 AM in the morning, and there are always snacks and beverages on hand to greet and fuel you for your day. After introductions and handshakes (NOT 2020 yet), Bob is usually the one to break things down for us and lay out how the day will commence. Most of this was covered in the emails leading up to our day to judge, but it is welcome just the same. We start with category #1, and then go right down the list till the end of the day. The entire IPMA office usually helps with the event, but Jennifer Chambers has been the field general to keep things moving from one table to the next and constantly making sure the next categories are ready to go. Offset categories are dealt with first, and then later you go on to judge the digital and non-offset pieces. Before it is all said and done, you also select Best of Show for both offset and then later for digital or non-offset.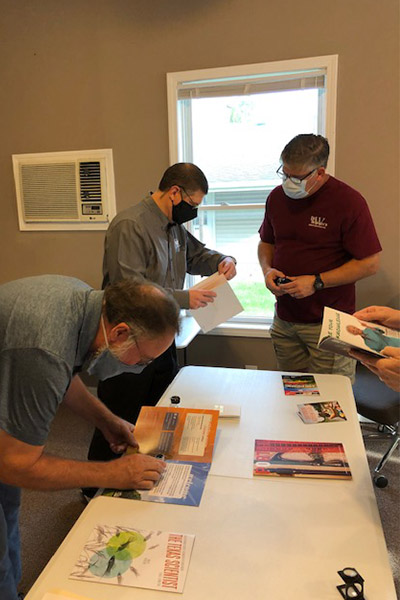 They usually keep things rolling as best they can, only taking breaks if there is an issue, but with a short lunch break you usually wrap things up by around 5:00 PM. My first year in 2017, we had 415 submissions with 65 getting awards. In 2018 we had 442 items to judge, and 73 of those garnered a prize. This year we judged 351 pieces, and 64 received recognition. So how do you judge all of them? One category at a time. You constantly are checking the categories to verify "what" type of pieces you are looking at, but also to remind yourself what the description and goal is for each round of pieces. Every judge looks at every single piece. Some you see for a mere second, while others you agonize over for what seems like hours, but might only be a matter of minutes at most. As the yearly "Tips" aide mentions, things like staples, folding, or crossovers can quickly send your coveted piece to the burn pile. While judging can take a bit longer first thing in the morning, especially if there are new judges involved, it picks up momentum as the day progresses. Eyes seem to get keener, and those judging become more accustomed to each other's approach and style. At times it is unspoken as categories are whittled down, but on other occasions you can tell some of us work through the process by talking out loud about individual aspects of each piece.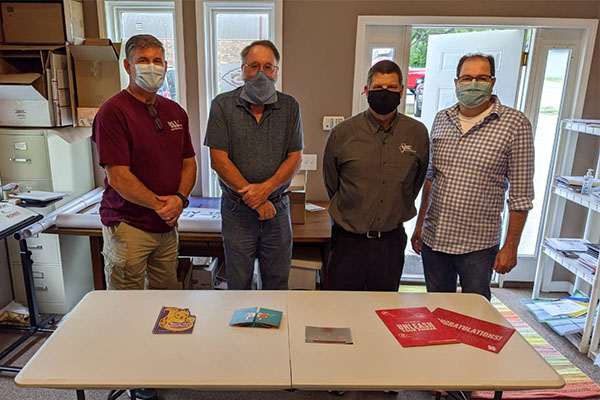 There are guidelines for awards based on how many pieces are in each group, but what is great about the process is that there are provisions where we as judges can petition for more opportunities for additional bronze awards. This can be asked of the Contest Awards Chair, but it is usually decided by the Godfather, Bob Neubauer. If the judges feel strongly enough about the admirable amount of entries, Bob will authorize the addition of one or more bronze awards. And for those pieces throughout the day that might have just missed being granted an award, but were still special enough to at least one of the judges, then there is opportunity to grant a Judges Choice award. These are set aside till the very end and reviewed one last time to see if they might be granted something. And at those times when you feel sympathy for something that did "not" get an award, you remind yourself that this is not unlike pizza (or other things), and that none are really bad. Some are just more special and amazing than others.
During a normal year, Bob is about and around throughout the day, and constantly shooting photos or videos. At times it might be a casual picture as judges inspect or debate the merits of various pieces, but at other times it is a production that rivals Spielberg or more so Kubrick. Bob takes great care and joy with the chronicling of the Best of Show selections in particular. One visit to awards night at an IPMA conference, or a visit to his In-Plant Impressions website will show you this entertaining spectacle. As you can imagine, there are moments when we judge a category where our own shop has produced one of the entries. In these cases, we recuse ourselves and there is someone who steps in to help judge it properly until there are no entries of this nature that remain. Normally the Awards Chair might assist, or also the ever helpful Larry Clements might step in, but he is also there every year to photographically commemorate each year's winners.
Since additional members have been able to help judge starting this past year, I assumed my time as a judge had ended. As no surprise now, I found out that the usual annual event that occurs in March was in danger of happening later this year. I was asked to help once more, and I was honored to get the chance to help again. For a time, I and others agreed to make the drive and help resolve the event until the Pandemic made itself more widely felt and plans were put on hold indefinitely. Eventually, after keeping in touch, it was decided we would complete the 2020 judging on September 23rd. Given the events of this year, that does not seem that bad, but don't forget each year's competition is actually made up of printed pieces from the prior year. So while some might have forgotten what they might have sent in, many IPMA shops are still waiting to see whose pieces will be awarded. After considerate hotel accommodations were made by the IPMA staff, all others involved made plans for a drive to the birthplace of Jesse James. This time around not only comfortable shoes were needed, but a somewhat comfortable face covering as well.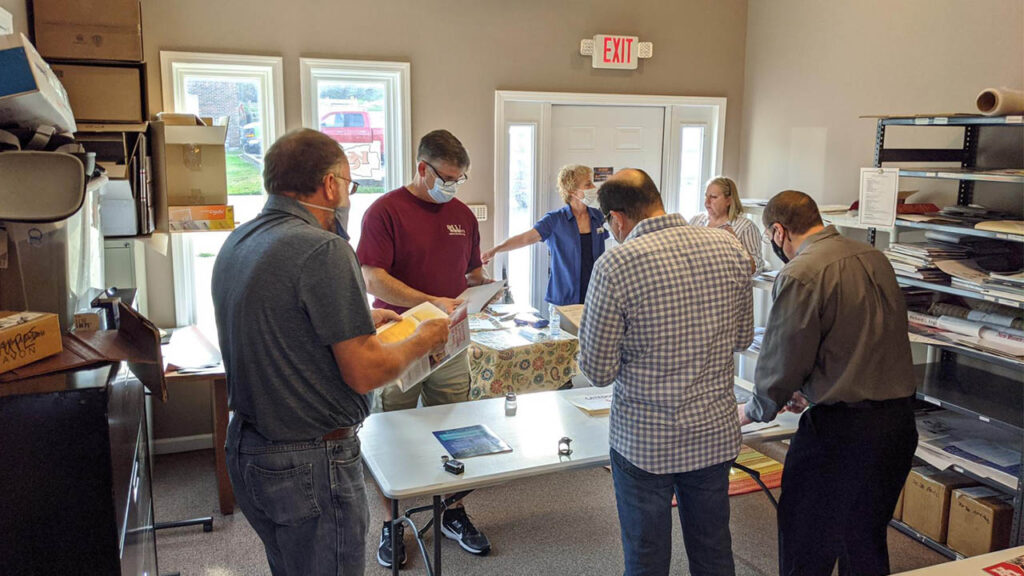 Judging in 2020 started with no handshakes, but there were lots of introductions and catching up with those we hadn't seen in some time. Same great IPMA staff there to help, but this time Bob was relegated to a connection by tablet or laptop. I could tell it was tough on him at times when he would ask to have his camera moved, or check in with someone in the room from time to time to see how things were going. The room we conduct the judging in every year is not expansive. The quarters are somewhat tight, but we did our best to distance as well as wear our masks. A saving grace was that the September weather was considerably nicer than it can be in March, so taking a short breathing break outdoors was a treat and enjoyed every now and then. As many of you have probably noticed in the age of the mask, smiling and other facial expressions are lacking when you interact with others. Our group also seemed to catch on quickly to this change, and, rather than relying on facial reactions for someone's opinion of a piece at times, we became more vocal about things we liked or felt were detracting on a printed item. Somewhat surprising was the fact we made excellent time this year. I thought it was due in part to meticulous preparations, but also to the skill and professionalism of everyone there. I think everyone was focused to make it run as smoothly as possible, and the end result was an orderly progression through the categories and finishing basically on time.
So if you have the opportunity to judge in the future, I would wholeheartedly encourage you to take advantage of the experience. My hope is you do not have to deal with any Pandemic restrictions, but even if that is still in place, it is a rewarding experience that teaches so much about what is being done in the printing world. All those who submit entries are appreciative of your time, but I feel the experience is valuable to you and your home shop..
---

Ben Fowler is the Document Services Supervisor at the home office of Shelter Insurance in Columbia, Missouri. He has been with Shelter since 2007, and worked at State Farm Insurance prior to that. At Shelter, Ben's department has a team of Document Specialists, Graphic Designers, and an in-plant Print Shop. Besides serving in various capacities as coach for his children's sports, he has progressed to cheering on one last child in high school. Ben also loves spending time with his family, as well as working around his property. For a time, not too long ago, he also helped create a paint and sip bar that was loads of fun, but also filled his waking moments most evenings and weekends. Originally from Kansas City, Ben grew to love Mid-Missouri and never left the area after finishing college at the University of Missouri.