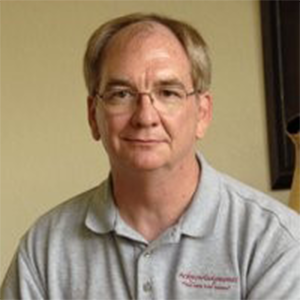 Larry Clements knew from an early age that he would work in the printing industry, he just was sure where it would take him. Larry is a third-generation printer. His grandparents owned a small stationery store in NE Kansas. His father worked at several newspapers/job printing shops and he became fascinated with the process.
During his high school years, he worked at the local newspaper after school cleaning the back shop, killing out pages and re-melting the Linotype slugs from the last weeks paper. He attended the technical branch of Oklahoma State University and received a certificate in Offset Lithography. He was offered a job as a process camera operator with the Oklahoma Department of Transportation starting his carrier in the in-plant printing field.
After leaving that position he went to work for Honeywell also working in their darkroom what was part of the "Reproduction Department". Working the night shift, he plotted computer circuit boards and making film copies. They moved him out of the darkroom into the main reproduction area where we worked with engineering drawing and the reproduction and distribution of printed manuals. It was in job that he first learned about an organization for managers of in-plant shops. He attended his first IPMA meeting around 1974. Two of his bosses were founding members of the Central Oklahoma Chapter.
Clements then worked for his parents as production manager after they purchased a small-town newspaper and moved to Oklahoma. After 6 years in the newspaper business he was offered an opportunity to start an in-plant shop at a small community college. Part of the agreement was that he would also us the shop to teach classes as part of the commercial arts program.
He reconnected with the local IPMA chapter in the mid 1980's and has been a part ever since. Larry has held every chapter officer position with the exception of treasurer and was also involved on the national board level as a regional vice-president. He is currently serving as the chapter president.
Sessions
Photography
The top 10 things every photographer should know about their camera.