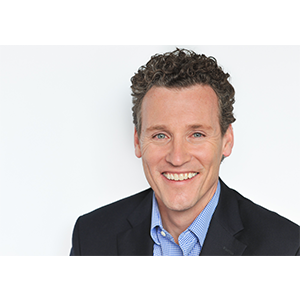 Scott Christopher is author of the best-selling People People: Who They Are, Why They Win and How To Become One, The Levity Effect: Why It Pays to Lighten Up, and The Seven UPs of Happiness.
He has appeared on NBC's Today Show, Fox Business Channel, CNBC, National Public Radio, BBC and has been quoted in the New York Times, Washington Post, Boston Globe, New York Post, Newsweek, Economist magazine, Ladies Home Journal and many other publications.
Since 1995, Scott has circled the globe entertaining and motivating thousands of audiences from senior leader retreats to all-staff meetings. Applicable to all audiences in any industry, Scott's unforgettable messages and off-the-cuff humor illustrate firsthand how levity, humor and becoming a 'people person' enrich lives at work and at home.
In his rare spare time, Scott is a television host, emcee and actor (SAG), appearing on network television series Modern Family, Criminal Minds, Granite Flats, Everwood, Touched by an Angel and in Disney Channel and Hallmark Channel movies.
Scott has a Master's in HR Management from the University of Connecticut and while an undergraduate at Brigham Young University, Scott was honored with the United States' most prestigious acting scholarship, the Irene Ryan Award, at the Kennedy Center in Washington, D.C.
Sessions
The Levity Effect: It Pays to Lighten Up
Does FUN affect engagement?
The evidence is abundant: it pays to lighten up. From greater employee satisfaction and engagement to earning a better paycheck, leaders who embrace levity not only enrich the lives of their direct reports but reap personal rewards as well. In this engaging and provocative session, bestselling author (The Levity Effect: Why It Pays to Lighten Up and People People) and speaker Scott Christopher reveals how tapping your "lighter side" brings tangible, positive results. Attendees will learn what constitutes levity–Latitude, Attitude and Gratitude™, how to discover their own "sense" of humor, how to appropriately and effectively recognize employee and peer accomplishments, and what successful organizations are doing to cultivate a more people-friendly work environment. Amid audience interaction, discussion and lots of laughter, attendees experience firsthand the levity effect in action.
Objectives/Takeaways
1. Understand the relevance of appropriate workplace levity and its relationship to employee retention, satisfaction and engagement.
2. Learn what other organizations are doing to incorporate levity in their communications, meetings, sales calls and the results.
3. Learn practical methods (latitude, attitude, gratitude) to lighten up at work and home and the expected returns.
4. Set one specific, executable 'Levity' goal to take back to work and accomplish.