Just in time for In-plant Awareness month in February, Rochester Software Associates (RSA) has created a special free downloadable 2020 calendar that celebrates 12 in-plants and the stories creating awareness for them as featured in In-plant Impressions (IPI).
IPMA asked me to share with you how the idea came about.
Last spring we released a new version of WebCRD, our Web to print software, that includes new variable data print software called ImpactVDP™. ImpactVDP is our own VDP solution for template design and ordering from any browser, and one of the VDP solutions we support. I know that a lot of in-plants create calendars for customers, often using photos obtained from employee contests. We did the same thing, but in reverse order. We held an employee photo contest to get images for the 20 rotating "splash" screen images a designer sees when they log into the software. Then for Printing United we created a calendar with 12 of the images using the software.
From there, the idea to create a calendar of 12 in-plants to raise awareness began to take hold. Increasing awareness of the in-plant and its products and services is often cited as a challenge. Though IPMA has designated February as In-plant Awareness month to bring attention to the great work being done by in-plants, I feel that generating awareness should be an ongoing initiative. Rather than focus just on the month of February, we wanted to highlight in-plants all year long!
Late last year I approached some in-plants — many of them IPMA members — about being in the calendar. I wanted to include a shop photo so people could see who the in-plant teams are. I also knew it was important to share the stories that are generating awareness for each of these 12 in-plants. So, in each shop photo we link to a story that was written about each in-plant in IPI.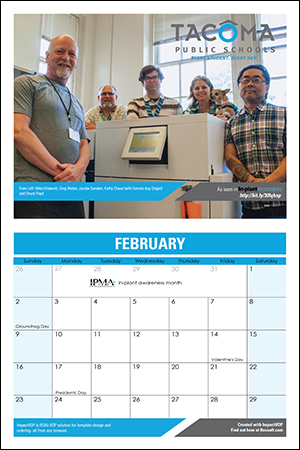 Who is in the calendar? The 12 in-plants are from all over the US and represent a number of verticals and shop sizes, ranging from some of the largest shops like the State of Oregon to a four-person shop at Ithaca College, who will be printing some of the calendars for RSA. Other in-plants in the calendar are Intermountain Healthcare, several school districts, Northern Virginia Community College, Spectrum Health, State of Wisconsin and more.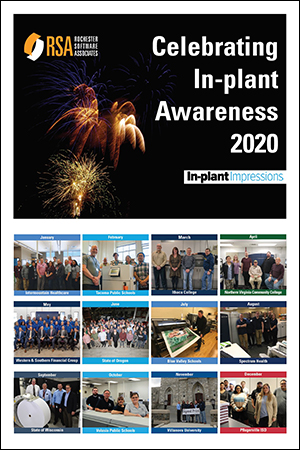 Increasing Value-added Services Raises your Profile
Generating awareness by sharing your story is a great way to create a jump off point for ongoing activities and tactics. Another way to raise your profile is to offer more value-added services that your customers want. VDP is a key value-added service, which is why we created this in-plant salute using our software. In the calendar we included some VDP stats and tips about the software to get your creative juices going.
Download the Celebrate In-plant Awareness Calendar Today!
See how you can create awareness and make an impact by adding value-added services like VDP. Download the free RSA 2020 in-plant awareness calendar today at: http://bit.ly/Awarecal.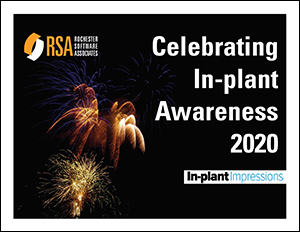 ---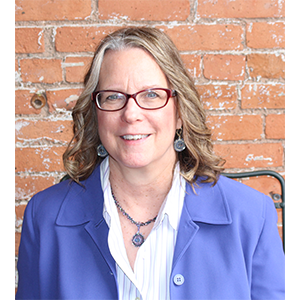 Elisha Kasinskas is Rochester Software Associates' (RSA) award-winning Marketing Director. Ms. Kasinskas joined RSA in 2010 and holds an RIT MBA and a BS, Marketing from Radford University.
Kasinskas is a frequent moderator for industry speaking sessions, an in-plant blogger, and has received industry awards including the IPMA Outstanding Contributor Award and was an Outputlinks Women of Distinction class of '15 inductee.