June 17, 2019
Kearney, MO – Kearney, MO – Congratulations Christopher Donlon and Kelly Hogg for earning recognition from the In-Plant Printing and Mailing Association (IPMA) by achieving the designation of Certified Graphic Communications Manager (CGCM). The CGCM credential is the highest honor of professional achievement available for in-house print managers.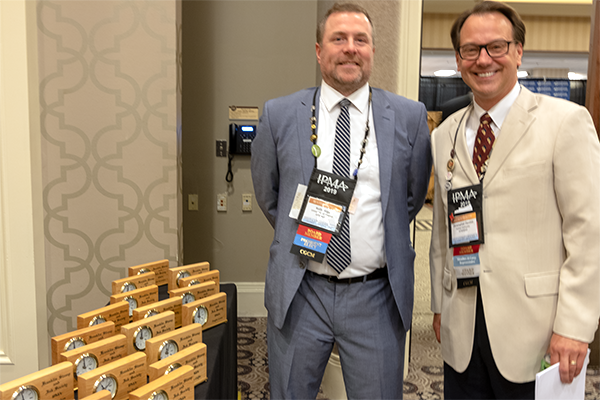 Christopher Donlon, Kohler Company and IPMA Board of Directors Member-At-Large said, "I added this certification as an official development goal for my annual review, passing it will add a level of excellence to my yearly accomplishments. The certification is very important to me in that I enjoy giving back to our IPMA community, but it will also show my company that I am striving for top quality management as well as production."
Kelly Hogg, University of Virginia and IPMA Board of Directors President-Elect said, "Becoming CGCM certified was not only a professional development goal, but also a personal goal. I knew it was going to be a challenge, but after passing, there was a huge sense of accomplishment. I have always had a lot of respect for those who were certified, and it is an honor to join such a group. I hope to encourage other members to become certified and enjoy the same sense of accomplishment."
Donlon and Hogg join nearly 400 men and women in the corporate publishing profession to have earned the prestigious CGCM designation.
About the Certified Graphic Communications Manager (CGCM) Certification
IPMA's Certified Graphic Communications (CGCM) Manager certification is the professional standard of proficiency for the in-house graphic arts and printing management profession. Its objectives are:
Encourage professional growth and attainment of technical and managerial knowledge.
Create a positive image and advance the stature of effective in-house graphic communications managers.
Emphasize the knowledge and expertise required to excel in the in-house graphic communications management field.
Identify, through the CGCM designation, those managers who have attained a high level of competence and professionalism.
Certification requirements include a minimum of 5 years in graphic communications management and current employment in an in-plant, displaying high moral character and an attitude of professionalism, and passing an in-depth examination covering both the business and technical aspects of in-house printing.
About IPMA
Founded in 1964, the In-Plant Printing and Mailing Association (IPMA) is the only professional association dedicated exclusively to meet the needs of all segments' in-house printers and mailers. The more than 700 members of IPMA are managers and directors from in-plant printing and mailing facilities throughout the United States. IPMA is headquartered in Kearney, MO. For more information, visit www.ipma.org and follow IPMA on Twitter, Facebook, YouTube, and Instagram.